National Museum Of The Marine Corps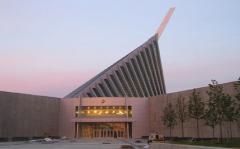 In its final form, the National Museum of the Marine Corps will present a comprehensive study of more than 200 years of Marine Corps history. Individual galleries depict specific eras and highlight Marine contributions to significant events in American history. The National Museum of the Marine Corps will be the centerpiece of a complex of facilities called the Marine Corps Heritage Center. This multi-use, 135-acre campus will include the Semper Fidelis Memorial Park and Chapel; a demonstration area with parade grounds; hiking trails and other outdoor recreational offerings; a conference center and hotel; and an archive facility to restore and preserve Marine artifacts.
Visitors can join the Marines at boot camp, get yelled at, lift a pack, test rifle skills, feel the ground shake on Iwo Jima, and brave the cold of a Korean battlefield.