National Museum Of The Pacific War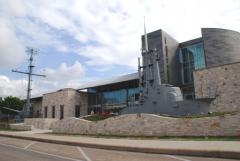 The National Museum of the Pacific War is the only institution in the continental United States dedicated exclusively to telling the story of the Pacific Theater battles of World War II.
At the National Museum of the Pacific War, visitors become quickly engaged in the very personal stories of all kinds of Americans from all branches of the military involved in the long struggle to fight aggression in the Pacific. Unique, chronologically-organized exhibits and walk–through dioramas make history come alive. Highlights include personal effects from those who made history in the Pacific, aircraft and battleship remnants, art, and other rare treasures. Other areas of the six acre site include the Admiral Nimitz Museum, Plaza of Presidents, Veterans' Walk of Honor, Japanese Garden of Peace, and the Pacific Combat Zone.