National Steinbeck Center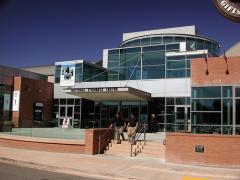 In the tradition of John Steinbeck, the center draws its inspiration from the diverse people and the land of the Salinas Valley to tell its history.
Through the exploration of John Steinbeck's work and themes, the National Steinbeck Center provides experiences and information that inspires audiences to learn about human nature, literature, history, agriculture, and the arts through the writings and history of Steinbeck. The Steinbeck Center presents the life of Steinbeck, his writings, his characters, and Steinbeck Country in an informative, educational and entertaining manner. Different nationalities play an important role in the Steinbeck Center because the author himself saw the Mexican, Chinese, Italian, Portuguese and other ethnic groups as dignified people and important contributors to the community. Utilizing diorama, innovative exhibits, changing displays and other media, the wonder and beauty of Steinbeck's creativity is dramatized so that everyone can enjoy and appreciate the author, his works and his environment. Two blocks from the Center sits John Steinbeck's childhood home, which visitors can tour.