National World War II Museum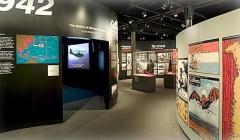 This national museum documents World War II history and illuminates the American experience during that time.
The National World War II Museum opened its doors on the 56th anniversary of the Normandy invasion that liberated Europe. It is located in New Orleans, Louisiana because it was here that Andrew Higgins built the landing craft used in the amphibious invasions; the landing craft which President Eisenhower believed won the war for the Allies. The Museum stands as our country's tribute to the men and women who made the invasions in Europe, Africa and the Pacific theaters successful. It presents their stories to an international audience, preserves material for research and scholarship, and inspires future generations to apply the lessons learned from the most complex military operation ever staged.
From the beaches of Normandy to the sands of Iwo Jima, The National World War II Museum's exhibitions blend personal accounts, artifacts, documents, photographs and never before seen film footage to tell the stories of the amphibious landings that made victory in World War II possible.
The National World War II Museum is a dynamic educational resource serving the needs of teachers and students from grade school through the post-graduate level. Exhibitions and programs allow students from all backgrounds to explore the values and beliefs—the universal concepts—that Americans and their Allies embraced during World War II. Through Museum tours, workshops, special on-site and outreach programming, film and lecture series, and our new distance learning initiative, young visitors experience the lessons of teamwork, optimism, courage, and sacrifice that led to the Allied victory. Utilizing an object-based learning experience, educational technology, and its world-class exhibits, the Museum uses its rich collection of artifacts and archives to take history beyond the pages of textbooks and into the hands of curious students.