New Orleans Historic Voodoo Museum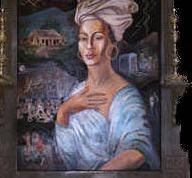 The New Orleans Historic Voodoo Museum provides a wide range of spiritual services. Customized Gris-Gris bags are often requested of the resident "Spiritual Mother," who anoints every bag with oils and prayers. These bags can be made to accommodate any situation.
Honeymooners often ask for a special blessing in their new lives. Mother Margaret has a Voodoo Matrimony and Blessing to help draw many good energies into the relationship. The traditional "Jumping of the Broom" is incorporated into this ceremony. Being ordained, she can lawfully perform Marriages.
Private Consultations are available during Museum hours on Sunday, Wednesday, Thursday, and Friday.