New Windsor Cantonment State Historic Site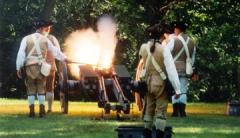 In October 1782, General George Washington moved his army to New Windsor to establish winter quarters. By late December 1782, they had erected nearly 600 log huts into a cantonment" or, military enclave. It was at the New Windsor Cantonment that the cease fire orders were issued by Washington ending the long fought Revolutionary War of Independence on April 19, 1783.
New Windsor is also home to the National Purple Heart Hall of Honor. To honor the service of his troops, General Washington chose a select few to receive a small purple cloth Badge of Merit. The present day Purple Heart medal took as its inspiration the color and shape of the Badge of Merit and added the image of George Washington to honor the man who valued his soldiers. In 1932, the new Purple Heart medal was presented to 150 veterans of World War I on these same historic grounds.
During seasonal events, staff dress in reproduction period clothing and uniforms demonstrating musket drills, blacksmithing, military medicine and camplife activities. Visitors can also enjoy exhibits at the Visitor Center and at the reconstructed Temple Building, which served as a chapel for the soldiers.