Newbold White House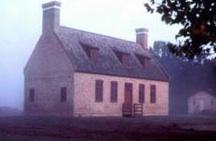 Abraham Sanders built the brick house in 1730 for his wife, Judith, and their six children. The grounds remain virtually unchanged and include a seasonal herb garden and a Quaker cemetery dating to the 17th century.
The Newbold-White House is the oldest house in the state open to the public on a regular basis. Simple yet elegant, it has been called an architectural gem. Meticulously restored, the house appears much as it did when it was built in 1730. Most of the house's eighteenth century brick is original and is set in a beautiful pattern. Stunning leaded glass windows enhance the house's appearance. Inside the house, you'll discover two enormous fireplaces, original pine woodwork, and a winding corner stairway. Period furnishings and household goods recapture the rugged charm of early eighteenth century domestic life.
The land around the Newbold-White House has been continuously occupied since 1684 when it was obtained by Joseph Scott. In 1672, Scott, a Quaker, hosted George Fox, the founder of the Society of Friends or Quakers. The Quakers have continued to hold meetings in the county ever since.
The site of the Newbold-White House is also of great historical significance in the development of the courts system of the State of North Carolina. The General Court, the Court of the Chancery and the Precinct Court of Perquimans sat periodically between 1689 and 1704. These dates predate the construction of the Newbold-White House yet still contribute to the significance of the site.
The expansive grounds provide plenty of room for picnics and parking. Group tours are welcome.