North Carolina Museum Of History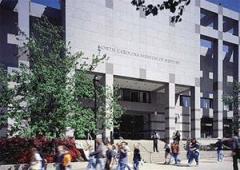 This local museum explores the history of the regional post of North Carolina.
People have lived in North Carolina for over 10,000 years, and today eight state-recognized American Indian tribes reside here. From its roots as the site of the first English settlement in the New World to its role in the American Revolution and Civil War, the "Old North State" has a history filled with stories of heroes, visionaries, entrepreneurs, inventors, artists, and everyday people.
Legendary figures such as the notorious pirate Blackbeard, First Lady Dolley Madison, adventurer Daniel Boone, Scottish heroine Flora MacDonald, Lumbee folk hero Henry Berry Lowry, educator Charlotte Hawkins Brown, North Carolina Supreme Court chief justice Henry Frye, and athlete Jim Thorpe have all called North Carolina home over the years.
At the North Carolina Museum of History, they are committed to creating a place where visitors can explore, learn, and enjoy programs, events, and exhibitions that celebrate North Carolina's past, present, and future.