North Point State Park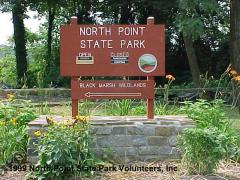 This waterfront park on the Chesapeake Bay was once the site of the Bay Shore Amusement Park.
North Point State Park is located in Baltimore County on the shores of the Chesapeake Bay and is surrounded by beautiful and fascinating natural and historical resources. It consists of 1,310 acres off Old North Point Road in Edgemere.
The Defenders Trail was used during the War of 1812 and passes through the park. North Point was also the site of the historical Bay Shore Amusement Park, a popular destination for summer visitors from 1906 until it closed in 1947. Visitors can see the original trolley shelter and fountain that have been restored. The trolley shelter is now a popular destination for special events and can be reserved by calling the visitor center. The Park is also home to Todd's Inheritance, where American sentries were stationed during the Battle of North Point during the War of 1812. The home was burned by the British in 1814 and rebuilt in the following years.