Oakley Plantation House at Audubon Memorial Park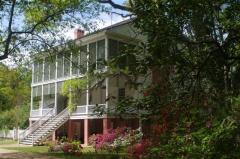 The natural beauty found within this state park inspired artist John James Audubon during his residence here.
"The rich magnolias covered with fragrant blossoms, the holly, the beech, the tall yellow poplar, the hilly ground and even the red clay, all excited my admiration. Such an entire change in the fall of nature in so short a time seems almost supernatural, and surrounded once more by numberless warblers and thrushes, I enjoyed the scene."
So reads the journal of John James Audubon as he recorded his arrival in 1821 at Oakley Plantation.
This lush natural setting, with a variety of birds singing throughout the 100-acre forest, still inspires visitors. In these peaceful environs, it is easy to imagine the artist filling his sketch pad with notes and drawings for his famous series of bird illustrations.
Audubon came upriver from New Orleans to do more than paint pictures. He had been hired to teach drawing to Miss Eliza Pirrie, daughter of Mr. and Mrs. James Pirrie, owners of Oakley. His teacher-artist arrangement was short-lived due to a misunderstanding with Mrs. Pirrie. Only four months after his arrival, Audubon returned to New Orleans. Although there is no record of his success in teaching Miss Pirrie to draw, in his personal endeavors he completed or began 32 bird paintings while at Oakley.