Old Fort House Museum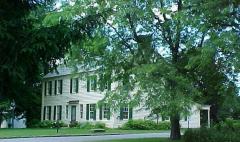 The house museum, originally the 1772 home of Patrick Smyth, has been open to the public since 1953 with authentic furnishings depicting the lives of occupants from the 1770s through the 1940s.
Built with timbers taken from the ruins of the French & Indian War fortification Fort Edward, the house was used as headquarters by both British and American generals in the Revolutionary War. Smyth was arrested at the house in 1777 by General Benedict Arnold for being a loyalist to the British Crown. During the Revolutionary War, the house was used by both British and American troops as headquarters. American General Stark erected a stockade fence around the house and for a time the building was called Fort Stark. It was also used by British General Burgoyne for a short time.
The home was used as both American and British headquarters during the Revolution, and was later the residence of Solomon Northup, a freed Southern slave and author. Tours are offered where visitors can explore the home with some of its original furnishings from the residents through the 20th century, an 1874 law office, and the classroom of the Old Fort Campus