Old Lawrenceburg City Cemetery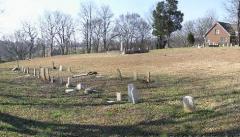 Located on Waterloo St. in Lawrenceburg, TN. The property for the cemetery was deeded to the City of Lawrenceburg in 1852 by Noah Parker, although there was a burial ground located on this site prior to this time and many burials were before this date. The earliest known marked grave dates back to 1835. The following list was taken from the records of the Works Progress Administration Historical Records Project (a copy of which can be found at the Lawrence County Archives). When the "At Rest" Cemetery Records were compiled in 1966 by Carrie Gresham and Irene Alexander, there were very few markers left and some tombstones were broken and scattered.
In February of 2004, Jason Goodrich, local Chapter of the Sons of Confederate Veterans Commander, and the staff of the Lawrence County Archives visited the cemetery with Nick Fielder, TN State Archaeologist, in order to determine the boundaries of this cemetery and locate the unmarked graves. As stated above there are hundreds of unmarked graves; the stones for many of the marked graves have deteriorated almost beyond reading. Others are broken or laying down and are in desperate need of repair. The graves of two families are enclosed by concrete walls and one family plot has a wrought iron fence around it. The fence is in need of repair and painting; the concrete enclosures need cleaning and restoring as many are crumbling (especially the columns); all gravestones need cleaning Several of the above ground false crypts have either caved in or are broken.