Old Louisiana State Capitol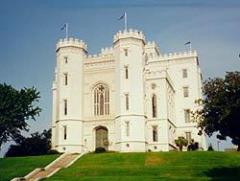 September 21, 1847, was the historic day that the City of Baton Rouge donated to the state of Louisiana a $20,000 parcel of land for a state capitol building, taking the seat of the capitol away from the City of New Orleans. The land donated by the city for the capitol building stands high atop a Baton Rouge bluff facing the Mississippi River, a site that some believe was once marked by the red pole, or "le baton rouge," which French explorers claimed designated a Native American council meeting site. The state house itself is one of the most distinguished examples of Gothic Revival architecture in the United States. Designed by architect James Harrison Dakin, its floor plan, towers, exterior stained glass windows and gables give it the appearance of a 15th-century Gothic Cathedral. Dakin referred to his design as "Castellated Gothic" due to its decoration with cast-iron, which was both cheaper and more durable than other building materials used at the time. The building design was so unusual and distinctive that its romantic, medieval appearance earned the Old Statehouse ridicule from the timelessly famous author, Mark Twain.
In 1862, during the Civil War, Union Admiral David Farragut captured New Orleans and the seat of government retreated from Baton Rouge. The Union troops first used the "old gray castle," as it was once described, as a prison and then as a garrison for African-American troops under General Culver Grover. While used as a garrison the Old Louisiana State Capitol caught fire twice. This, in turn, transformed the building into an empty, gutted shell abandoned by the Union troops. By 1882 the state house was totally reconstructed by architect and engineer William A. Freret, who is credited with the installation of the spiral staircase and stained glass dome, which are the focal points of the interior. The refurbished state house remained in use until 1932, when it was abandoned for the New State Capitol building. The Old State Capitol Building has since been used to house federally chartered veteran's organizations, and the seat of the Works Progress Administration. Restored in the 1990s, the former Capitol Building is now a museum.