Old Spencer Mill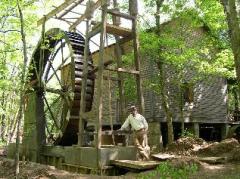 Built before 1856, this functioning gristmill is one of the last of its kind.
The earliest documentation establishing the Spencer's Mill appears just before the Civil War in 1856. The mill was operated Samuel Spencer as a water turbine driven corn & flour mill. In order to grind corn and wheat for local farmers in this area, French burr stones were bought & shipped for $14.14 from overseas and used as ballasts for weight during the passage across the Atlantic. The mill became the center of the community where everything from rifles to coffins was manufactured. Even the first thresher in the county was constructed here. Spencer's Mill boasted a wood & blacksmith shop, two stores, a saw mill and a post office. Mail was received semi-weekly in the community from Jan 18, 1878-April 14, 1906. William A. Lampley was its first postmaster.
Trish & Tim Miller purchased the mill in 1993 and moved it back to the original mill site on Parker's Creek where a faithful restoration began. In time, the present owners intend to operate the mill once again & preserve this as a local historical area. In the meantime cornmeal is being ground on site by a portable gasoline powered mill & complimentary bags are available. The site is located just off the intersection of Abiff & Spencer Mill Road on Old Spencer Mill Road in southeastern Dickson County, Middle Tennessee.