Old Stone House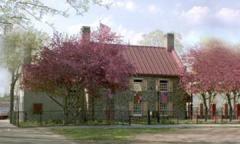 During the Battle of Brooklyn in August 1776, a regiment of about 400 volunteers from Maryland engaged a superior force of British and Hessian soldiers in a desperate defensive maneuver to enable other American troops to flee across the Gowanus marshes to the safety of Washington's encampment on Brooklyn Heights. The Marylanders' sacrifice became legend – a storied moment in a long war.
After the war's end, the Cortelyou family owned the house from 1790 to 1850. In the following years, the land surrounding the old Vechte-Cortelyou farmhouse was filled to provide level building lots for fashionable row houses.
The square block around the battle shrine remained intact and became Washington Park in 1883. Its lawns were the summer home of the Brooklyn Baseball Club – later known as the Brooklyn Dodgers – which used the House as its first headquarters. In 1889 and 1890, the World Series was played at Washington Park, establishing the tradition of Brooklyn baseball.
Today, reconstructed from original stones near the original site, the Old Stone House serves as an interpretive and educational center dedicated to Brooklyn history, as well as a cultural resource for the community.
Old Stone House is owned by the New York City Department of Parks & Recreation, operated by the Old Stone House of Brooklyn Inc., and is a member of the Historic House Trust.