Oren Dunn City Museum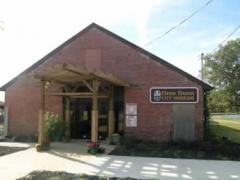 In April 1983, Mr. Oren Dunn approached Tupelo city officials and proposed creating a museum in the existing buildings at what is now Ballard Park. Dunn planned to use donated funds for renovations and to display items loaned by local residents and his own collection. His proposal was granted. To legalize his position, he asked for a salary of $1 a year and went to work.
Dunn received two converted milk barns, once part of Forest Lake Farm owned by Mr. and Mrs. Rex Reed, and later converted to city workspace. The Tupelo City Museum opened in August 1984. Over the following years, the museum acquired several historical buildings and collections that helped the museum grow to what it is today.
Dunn continued to work at the museum until he passed away in early December 1996. On December 17, 1996 Tupelo city officials renamed the Tupelo City Museum to the 'Oren Dunn Museum of Tupelo' to honor its founding curator. Today the museum name has been changed to Oren Dunn City Museum.