Pamplin Historical Park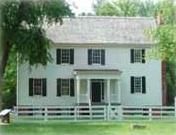 Pamplin Historical Park is where Union troops finally broke through Confederate defenses, captured Petersburg, and marched on to Richmond and the end of the war.
The award-winning National Museum of the Civil War Soldier forms the Park's centerpiece. Here, the story of the 3 million common soldiers who fought in America's bloodiest conflict is told in breathtaking fashion using the latest museum technology.
An impressive artifact collection is set amidst lifelike settings. Interactive learning stations attract kids and grownups alike. The entire experience is keyed to an audio tour featuring the words and "voices" of real participants in the war.
Museums interpreting plantation life, slavery in America, and the breakthrough battlefield of April 2, 1865 are within a short walk of the National Museum.