Pearl S. Buck Birthplace Museum (stulting House)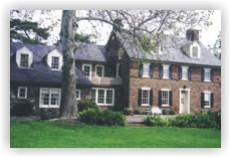 This house was built by the Stulting family who emigrated from Holland to America in 1847 and who lived here on a sixteen acre farm. On June 26, 1892, the birth of Pearl Comfort Sydenstricker took place here. Later, writing under her married name of Pearl S. Buck, she won the hearts of Americans with her famous novel, The Good Earth, for which she won the Pulitzer Prize for Literature in 1932. For the high quality of her literary work, she was awarded the Nobel Prize for Literature in 1938. Pearl Buck was the first American woman to ever receive both of these awards. On June 24, 1983, the Pearl Buck U.S. Postal Stamp was issued at Hillsboro as a tribute to this great lady.
Today the Birthplace is a fine historic house museum of 1892 where guides greet you and lead you through period rooms containing some of the original furniture and memorabilia of Pearl S. Buck, as well as West Virginia crafts, our official First Day Covers with Pearl Buck Stamps, and other souvenirs. In the Stulting Barn, restored in 1977, can be seen farm implements of the 1892 period. The Sydenstricker House, Birthplace of Pearl Buck's father, originally in Greenbrier County, has been dismantled, transported 40 miles, and reconstructed here for use as a cultural center, with the log section as a Sydenstricker Museum. Thus the Birthplace has grown into a farm complex, adding a new historical dimension.