The Philadelphia History Museum at the Atwater Kent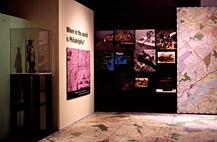 The Atwater Kent Museum, located just around the corner from Independence Hall and the Liberty Bell, is the gateway to Philadelphia history.
Anchored by a 40-by-40-foot Rand McNally map of the region, Experience Philadelphia ! invites you to walk across the gallery floor from South Philadelphia to Montgomery County. This unique gallery features objects from the AKMP collection and answers the questions: Where in the world is Philadelphia ? Who lives there? What do they do? How does the city work? Visitors experience a 300-year overview of city history, an orientation to the region and are able to link the stories of urban life to locations on the world's largest map of Philadelphia. Other exhibits at the museum include "Philly Works: Streets as Barometers of Urban Life", "What's the story about violence in Philadelphia?", and "Norman Rockwell: The Artist Behind the Image".