Philippi Covered Bridge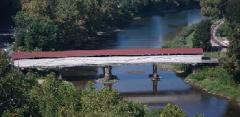 The Philippi Covered Bridge is near the the entrance to Phillipi on Rt. 250. It is reportedly the only remaining two-lane "double barrel" covered bridge still in use on a US highway. This bridge is also historically significant as on June 3, 1861, it was the scene of the first land battle of the Civil War.
This covered bridge was nearly destroyed by fire in 1989 but has been completely restored.