Pine Strawberry Historical Society & Museum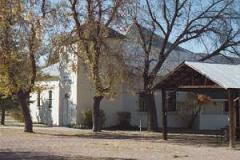 The community of Pine was settled in 1879 by Mormon pioneers, who endured many hardships during their settlement of this untamed country. But through their determination and faith, Pine survived. Much of what is displayed in the Pine-Strawberry Museum today is in tribute to the dedication and hard work of our founding families.
The museum relocated to its current location in 1990 from a single room in the Isabelle Hunt Memorial Public Library in Pine. This larger facility allows the display of more artifacts and documents; especially those that pertain to the Native American cultures that occupied our area, the first Spanish and Anglo pioneers to visit and settle the area, and the peoples who have remained in the community since the initial settlement.
The museum houses prehistoric artifacts found in the land area of Pine and Strawberry Valleys and near plateaus, as well as artifacts actually brought and used by the earliest settlers to the communities. Also on display are artifacts relative to the Pine and Strawberry area that were neither found here nor actually used by the founding families, yet are typical of those used by the early settlers. Examples of these would be wash buckets, irons and oil lamps. In general, items displayed in the Pine-Strawberry Museum pre-date 1945.