Pioneer & Historical Society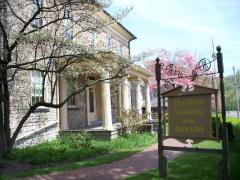 The Pioneer and Historical Society of Muskingum County was incorporated way back in 1890 as an outgrowth of two earlier groups. Our collection was then housed in a room in the old Soldiers and Sailors Monumental Association building on North Fifth Street. That building was torn down in 1937 and the Historical Society moved into the old Bailey home at the corner of Maple and Adair. We shared the building with the Zanesville Art Institute. As the Art Institute expanded less space was available for use by the Historical Society making it difficult to accept donations and expand the collection.
In 1970, the Society acquired a permanent home, the Dr. Increase Mathews House on Woodlawn Avenue, given by Mrs. F.F. Frazier. Later that year, following a successful financial campaign, the oldest building in Muskingum County was opened to the public as a museum. In 1976, thanks to the generous support of the Soldiers and Sailors Monumental Association, a new exhibit opened in the Mathews House honoring Muskingum County veterans from all of our nation's wars. The exhibit was updated in 2007. In 1983, The Stone Academy, constructed in 1809 and arguably the most historic building in the county was donated to the Historical Society by Lydia McHenry Taylor on the condition that it be used as a museum.
Today we continue to operate both museums. Hundreds visit each year including many school groups. Operating expenses, maintenance, and repairs consume our annual budget making it very difficult to even consider any improvements.