Pioneer Krier Museum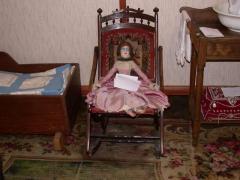 When the Clark County Historical Socity was organized in 1939, it was with the understanding that the society should acquire a building to house the relics in their possession. The first collections of the society were stored in the old courthouse. In 1951 when the new court house was ready for use, the commissioners granted the Society the use of a basement room for display of items.
In 1964 the commisioners, needing the space, asked that the Society find a place to house their items in another location. The new building was dedicated May 30th 1968.
The Museum concentrates on telling the history of the local area. It presents samples of those things used by pioneer families in daily living in this cattle grazing country. Furnishings range from a country store with its cracker barrel and array of merchandise, to collections of fossils, stones, and barb wire. A rare display of pre-historic animal bones excavated near Ashland is said to compare favorably to ones found in the Smithsonian Institution. Furnishings used in schools, banks, churches, hospitals, funeral parlors, real estate shops, harness shops, barber shops, and different rooms of homes are displayed.
In 1974 an addition was added to the north end of the building large enough to accommodate two of Harold Krier's airplanes, but currently the museum has only one of the planes, the 'Flying Chipmunk' for display.  He was famous for his championship aerobatics, not only in America, but in the Europe and the Iron Curtain countries.