Playland Amusement Park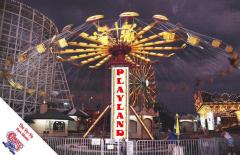 Playland is Metro New York's great family amusement park and entertainment center.  Featuring more than 50 rides and attractions for children and adults, Playland also offers free entertainment and has a beach, pool, boardwalk and pier on scenic Long Island Sound, lake boating, picnic area, mini golf and indoor ice-skating.
Playland has the distinction of being America's first totally planned amusement park and prototype for today's successful theme parks.  Dedicated as a National Historic Landmark in 1987, Playland has provided family fun since 1928.  Often referred to as "Rye Playland", it is America's only government owned and operated amusement park.