Port Isabel Lighthouse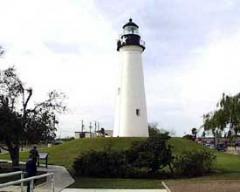 The 82-foot tower is constructed of brick with a light that can be seen for 15 miles. It remains one of the oldest functioning lighthouses on the Texas Gulf Coast.
In the 1800s, the low-lying Texas coast made charting a seagoing course extremely difficult, and a number of captains requested that something be done. The Port Isabel Lighthouse was constructed in 1852, near sites of Civil War Battle of Palmito Ranch (1865) and Mexican War Battles of Palo Alto and Resaca de la Palma.
The center is a replica of the original lighthouse keeper's cottage and surrounding decorative fence. The building includes an interpretive exhibit highlighting the history of the lighthouse and the old Fort Polk site it occupies.