Pride Of Baltimore II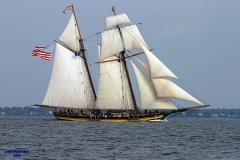 This reproduction of an 1812-era Baltimore Clipper privateer represents the great maritime history of Baltimore and Maryland.
The Pride of Baltimore II is a reproduction of topsail schooners, called the Baltimore Clippers, which were commissioned by James Madison to help against the British Navy in the War of 1812. The Pride II, the Goodwill Ambassador of the state of Maryland, makes her homeport in the Inner Harbor of Baltimore, spending a portion of the year at sea, educating the public in Maryland's maritime history.