Pro Football Hall Of Fame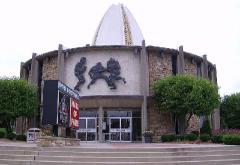 The Hall of Fame, opened in 1963, stands as a shining tribute to the men who have made professional football America's most popular sport.
The Pro Football Hall of Fame has grown in both size and stature. The building was expanded in 1971, 1978 and 1995; and completed major exhibit gallery renovations in 2003 and 2008. Together, these improvements have transformed the original 19,000 square-foot Hall of Fame museum into an exciting 83,000 square-foot internationally recognized institution and travel destination.
The hall is located in Canton, Ohio, for three primary reasons; (1) the American Professional Football Association, later renamed the National Football League, was founded in Canton on September 17, 1920. (2) the Canton Bulldogs were an early-day pro football power, even before the days of the NFL. They were also the first two-time champion of the NFL in 1922 and 1923. The great Jim Thorpe, the first big-name athlete to play pro football, played his first pro football with the Bulldogs, starting in 1915. (3) Canton citizens early in the 1960's launched a determined and well-organized campaign to earn the site designation for their city.