Rehoboth Methodist Church & Museum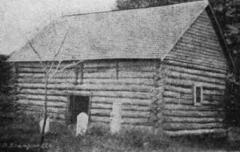 Newly-arrived pioneers organized a Methodist church in the vicinity of Union in late 1784. Working together, they built the church in 1785 on the land of Edward Keenan, who had been a leading part of the construction effort. Keenan donated the land both for the church and for its graveyard. The building was dedicated in 1786 by Francis Asbury, the first Methodist bishop in the United States. After its construction, the church was a center of Methodism: Asbury returned at least three times in the next ten years to lead Annual Conferences at the church.
The five-acre site contains the original structure and furnishings, Edward Keenan's tombstone, and a museum that contains displays regarding Rehoboth and Methodism in West Virginia.