Richardson Maritime Museum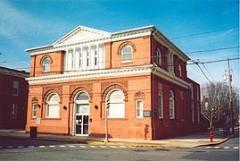 The museum includes collections of models of various boats, boatbuilders' tools, and watermen's artifacts.
A special exhibit is devoted to the life and work of James B. ("Mr. Jim") Richardson (1906-1991), for whom the museum was named. Some of his hand tools, examples of wooden carvings and gifts made for his family, photos, drawings and models of the vessels he made are featured, as are exhibits of special vessels he built, such as the replica of the Dove, the 17th-century ship that helped bring early colonists to the Chesapeake Bay area. The trailboards from the Jenny Norman, the bugeye he built as his last boat, are displayed on a replica of the bowsprit and cutwater.
The Museum's collection of more than 50 Chesapeake Bay wooden boat models is unique. Most of the models, built between 30 and 60 years ago by mid-shore watermen and builders of traditional work vessels, depict the rich history of Bay craft dating from the late 18th through the mid-20th century. The models represent actual historic vessels, ranging from famous privateers of the late 1700s through the whole variety of oyster dredge boats (bugeyes, skipjacks, pungys), freight schooners, crabbing skiffs and powered work boats (including the dovetail type) used for oystering, eeling, crabbing and fishing.