Richmond National Battlefield Park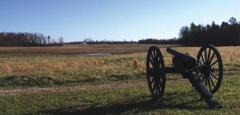 This site's numerous battlefields include Beaver Dam Creek, Gaines' Mill, Glendale, and Malvern Hill, all of which served as fields of engagement during the 1862 Seven Days Battles and the 1864 battles of Cold Harbor and New Market Heights.
On these battlefields, 14 United States Colored Troops won Medals of Honor, making this site an important landmark in African American history.
The park also includes Drewry's Bluffand Parker's Battery in Chesterfield County.
Today, the park preserves more than 1900 acres of Civil War resources in 13 units, including the main visitor center at the famous Tredegar Iron Works and the Chimborazo Medical Museum, on the site of Chimborazo Hospital.