Riversdale House Museum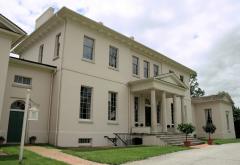 This beautifully restored 19th century estate, which offers tours to the public, was home to George Calvert, grandson of the 5th Baron Baltimore.
Riversdale, an elegant Federal style plantation house, was constructed between 1801 and 1807 for Henri Stier, a Flemish aristocrat, and completed by his daughter Rosalie and her husband George Calvert. Today, this elegant architectural gem has been restored to reflect the lifestyle of the Calverts in the early 19th century. Archaeology, archival records, and oral histories are used to provide modern-day visitors with a better understanding of 19th century life. Rosalie Calvert's letters are used to piece together the life of a gentry-class woman living in rural Maryland. Adam Francis Plummer, an enslaved man owned by the Calverts, wrote a rare first-person account of slavery. Their stories have been preserved and are retold at Riversdale.
Riversdale also played an important part in the War of 1812. After Commodore Joshua Barney, a Revolutionary War hero who had come out of retirement to fight the British once again, unsuccessfully attempted to hold off the invaders at the Battle of Bladensburg, Rosalie Stier Calvert ordered her slaves to bury the dead. She additionally went around collecting the weapons.
and other items that had been left behind on the battlefield.
The museum is open to the public for docent-guided tours and for a variety of special events.