Riverside Metropolitan Museum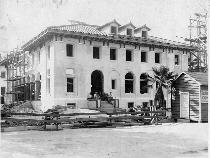 As the founding collection at the Riverside Metropolitan Museum, the Anthropology Collection provides a diverse look at early collectors in Southern California, and in particular, at local Native American culture in the Riverside region. The collections holdings are diverse and vast, spanning many periods of time and types of collections. The collection houses everything from African Hausa hats to Northwest Coast totem poles, from local Native American basketry to Japanese textiles, from Artic people and the Southwest. This diversity creates an interesting look into the collecting practices of our ancestors and the legacy of a community.
Owned by the Riverside Metropolitan Museum, the Heritage House, a 1891 Victorian showplace, depicts life in turn-of-the century Riverside. An elegant reminder of the affluent homes which once graced Magnolia Avenue and estored and maintained in a manner reflective of its nineteenth-century construction, this grand house is now a meticulously researched example of historic tastes, values, and lifestyle. Another local landmark associated with the museum is the Harada House, which embodies the experiences of the Harada family, a Japanese immigrant family, from their arrival to California in 1905 through their struggles to achieve land ownership and equal treatment as American citizens.