Rock Ford Plantation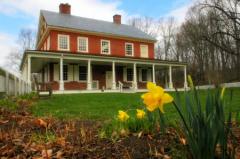 Hand's Georgian brick mansion stands on the banks of the Conestoga River and is surrounded by over 32 acres of land. After the war, Hand retired to the mansion and lived out his days in the scenic Pennsylvania countryside. Edward Hand purchased the "plantation tract of land" in two transactions: 160 acres in 1785, and 17 additional acres in 1792. The old term for a farm under cultivation was "plantation". Built circa 1794, the Georgian style brick mansion remains remarkably preserved and essentially unchanged architecturally. Rock Ford's spacious four floors conform to the same plan -- a center hall and four corner rooms -- typical of the period. Visitors walk the original 18th century floors and see original rails, shutters, doors, cupboards, paneling, and windowpanes.
The house was opened to the public in 1960, and the restoration of the wooden piazzas was completed in 1964. Today, Rock Ford is one of the most important examples of Georgian domestic architecture surviving in Pennsylvania and the most intact building predating 1800 in Lancaster County. The living-history programming of the museum includes hands-on activities for children and open-hearth cooking demonstrations in addition to regular guided tours.