Rocky Mountain National Park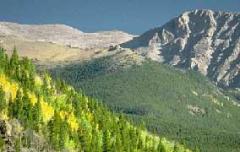 This living showcase of the grandeur of the Rocky Mountains, with elevations ranging from 8,000 feet in the wet, grassy valleys to 14,259 feet at the weather-ravaged top of Longs Peak, provides visitors with opportunities for countless breathtaking experiences and adventures.
With five drive-in campgrounds Rocky Mountain National Park provides a variety of camping experiences. Two campgrounds, Moraine Park and Glacier Basin, are on the reservation system. 359 miles of trail offer endless opportunities to hikers, backpackers and horseback riders.