Saratoga Springs History Museum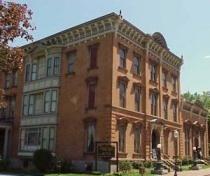 The historical Society also fosters public education and chronicles the story of Saratoga Springs history by operating the museum, conducting programs,and thoughtfully exhibiting the materials of the city.
The current location of the Canfield Casino has been the site of the museum since 1911. This beautiful 1870 gambling casino, owned by the City of Saratoga Springs, is on the National Register of Historic Places. While the building was originally intended for gambling and elegant dining, reformers closed it in 1907. Visitors to the museum can take a tour through time as they see exhibits on three floors of the Casino displaying different aspects of Saratoga Springs history.