Schooner Sultana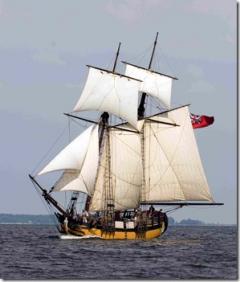 The HMS Sultana was a Royal Navy schooner that patrolled the American coast from 1768 through 1772, collecting duties and thwarting smugglers. She was retired before the American Revolution as colonial unrest necessitated larger, better armed ships. Her assignment was to enforce the Townshend Acts by stopping smugglers; this mission took her everywhere from Rhode Island to New York, Pennsylvania, North Carolina, New Jersey, Delaware, Virginia, and many locations in the lower Chesapeake. Ultimately, the Sultana was sold at auction in England.
The new Sultana was launched in Chestertown, Maryland in 2001 to serve as an educational vessel as it travels the Chesapeake Bay. The last weekend in October is Chestertown's Downrigging Weekend, where the Sultana and other historic tall ships are open to the public in Chestertown's own harbor. The replica Sultana is not an exact reconstruction, as it has a diesel auxiliary engine and conforms to Coast Guard regulations so that it may carry passengers. However, she was built following traditional methods where possible.
The Sultana Center is just three blocks away from where the Sultana docks and features a variety of hands-on exhibits, including a brackish water aquarium. The Center is also in possession of many of the original documents of and pertaining to the Sultana, such as the ship's plan and the original log detailing the Sultana's trials and travels along the east coast.