Science Museum Of Virginia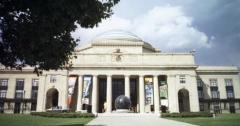 Visitors are invited to touch, observe, and explore the impact of science from astonomy to computers, from flight to crystals, from DNA to electricity--all within the elegant grandeur of a historic, renovated railroad station.
The museum houses hundreds of permanent and visiting exhibits. Visitors can see rats play basketball or play laser pool. Watch the Foucault pendulum as it proves the Earth's rotation. Visit Bioscape — an inter-active life sciences exhibition. Watch a giant-screen film in the museum's Ethyl Corporation in the museum's Imax theater. Special programs offered through the museum include live theater presentations by the Carpenter Science Theatre Company.