Scotchtown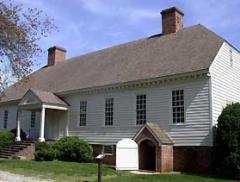 Charles Chiswell obtained 9,976 acres on what was then the western part of New Kent County in 1717. He named his country home Scotchtown and imported a colony of Scots to build the house and outbuildings, including a mill. However, an outbreak of yellow fever killed many of the Scots and caused the remainder to flee, leaving behind only traces of the Scottish castle Chiswell had hoped to construct.
Hanover native Patrick Henry brought Scotchtown and 960 acres at auction in 1771. Already a leader in the pre-Revolutionary Virginia politics of the time, Henry moved there with his wife, Sarah, and six children. It is believed that he saw clients in the main house, which has changed little over the centuries. Scotchtown today contains three pieces of furniture - a map table, tea caddy and baby cradle - that belonged to Henry.
Henry's time at Scotchtown was eventful, coinciding with his role in helping to instigate the American Revolution, but also sad. His wife had been melancholy since the birth of their sixth child and slipped into a condition so serious - and still unknown - that she was confined to the basement for her own protection and that of others. She died in 1775 and is said to be buried on the property, though no one knows for sure. Distraught, Henry sold Scotchtown in 1777 and left Hanover County, never to return. He died in 1799 in Charlotte County, leaving behind a grateful state and a new nation.