Sheridan County Museum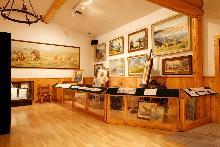 The museum highlights life in Sheridan County with dioramas, photographs and artifacts. Exhibit topics address local American Indians, military, ranching, railroad, timbering, mining, artists, photographers and events from the 19th-century through today.
During the summer months, the museum has a children's morning education program called Tidbit Tuesdays. From telling a story on a hide painting to building a western town diorama and playing old time children's games, Tidbit Tuesdays will give children and their families an opportunity to explore history together.