Shirley Plantation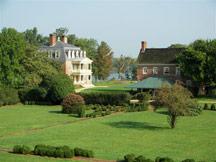 Shirley Plantation is Virginia's first plantation and one of the first economic engines of the new world. Only six years after John Smith's settlement at Jamestown, the crown grant carving Shirley Plantation out of the Virginia frontier was established. The chronicle of Shirley Plantation best exemplifies the period in our nation's history between the settlement at Jamestown in 1607 and the movement towards American independence from Great Britain in 1776. During its long history and under the leadership of one family, Shirley Plantation has survived the Indian Uprising, Bacon's Rebellion, the Revolutionary War, the Civil War, and the Great Depression.
Shirley Plantation is the oldest family-owned business in North America dating back to 1638. Construction of the present mansion began in 1723 and was completed in 1738 and today is largely in its original state and is owned, operated, and lived in by direct descendants of Edward Hill.
Visitors are invited to take the guided tour of the Great House which highlights original family furnishings, portraits, silver, and hand-carved woodwork as well as stories of the Hill-Carter family, eye witnesses to eleven generations of American history. Self-guided tours through the formal gardens and eight original colonial outbuildings are open to visitors as well.