Shofuso Japanese House And Garden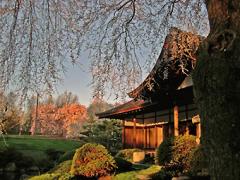 The Japanese House, as it is informally known to Philadelphians, is in a style which would have been appropriate for an educated member of the upper class, such as a government official, high-ranking priest, or wealthy scholar. The extensive use of natural materials creates a serene harmony between the house and surrounding garden. The perfectly proportioned architecture of the main structure and adjoining tea house is enhanced by an ornamental garden and picturesque pond.
The ground on which the Japanese House now stands has had a Japanese structure and landscaping almost continuously since the 1876 Centennial Exposition, when the Japanese Bazaar and garden were in the area.