Show Low Historical Society Museum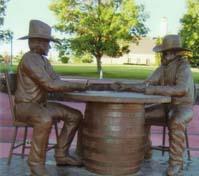 Show Low had its beginning as a ranch claimed by Marion Clark and Corydon Cooley. A creek made its way through the little valley and provided water for irrigation and the cattle grazing on the lush grass throughout the ranch. Virgin pine forests surrounded the valley. Sometime around 1876 the partners knew that one of them should leave, but could not decide which one.
A card game would settle the issue. The game believed to have been called "seven up" began and lasted through the night and into the early morning hours. Clark finally told Cooley, "Show low and you take the ranch." Cooley turned up the deuce of clubs and won a reported 100,000 acres, the cattle, crops and buildings. A century later the main street through the town was named "Deuce of Clubs." Show Low was approved for a post office in 1880. Corydon Cooley was the first postmaster.
Mormon settlers began to arrive in 1876 to build their homes and till the land. Cooley sold his holdings in 1888 to his partner Henry Huning, who worked the ranch until 1903. More Mormons, William J. Flake, James C. Owens, John Henry Willis, Abner and Frank Ellsworth and Hans Hansen, bought the land, water rights, buildings, stock and crops for $13,500, plotted the town, divided it into four and one-half shares, and took up residence in the existing buildings on each one's share.