Smithville Community Historical Society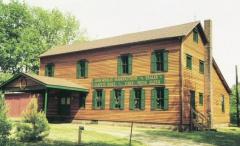 The log cabin gives visitors a glimpse into the world of pioneer forefathers (and mothers) who settled this area when Wayne County was the wild West!
Early settlers made their way through the vast forests along Indian trails. When they found a plot of land they wished to claim, they faced the arduous task of clearing the land. It made sense to use some of the trees they needed to fell for their homes. Since blacksmith-forged nails were a pricey luxury, they fashioned wooden pins for nails and made wooden hinges and latches. There is a latchstring on the cabin's front door.
The Sheller Log House was originally located next to the former Lutheran Church (now the Independent Missionary Baptist Church) on East Main Street, Smithville (State Route 585). The 1856 Baker Map of Wayne County shows that it was owned by G. Sheller, a tailor. The exact year the house was built is not known. It was moved in 1929 from its original location to just across the street (from the north side to the south side of East Main Street). The Smithville Community Historical Society purchased the house and moved it to its present location.