South Carolina Confederate Relic Room & Military Museum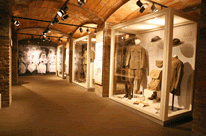 The Museum collects and preserves artifacts relating to, or associated with, all eras of South Carolina military history for exhibition, to educate and engage its visitors. Conducting research, developing educational programs, and publishing scholarly writings using specific elements of this collection in order to educate, enlighten and engage its community of patrons and those interested in the material cultural history represented by this collection are primary ambitions of the South Carolina Confederate Relic Room and Military Museum.
A nationally known Civil War flag collection, a significant South Carolina uniform collection, and a growing weapons collection are complemented by a historical archives collection and a 19th and 20th century textile collection, allowing the museum to interpret the political and social influences on South Carolina's military history.