South County Historical Society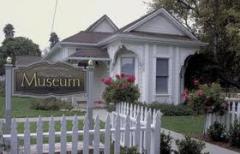 The South County Historical Society boasts several late 19th century dwellings, a schoolhouse, and the former meeting place of the International Order of Odd Fellows.
The Heritage House was built in the late 1800's. Records show that the house was sold to Charles A. Pitkin in 1895. In 1906 the house was sold to Dr. H. S. Walters and was known as "Dr. Walter's Sanatorium".
In 1948 after many owners, the house was changed into a duplex and the Travis and Roundtree families were the occupants. In 1961 the Roundtree's sold the house to the Travis's. Then in 1976 the house was sold to the City of Arroyo Grande and was used as a daycare center. It also housed the City Recreation Department. The Historical Society acquired the house in 1997 and did major restoration work to turn it into a visitor's center and museum. A gazebo and garden were added to provide a beautiful setting for weddings and other social events.
The Santa Manuela Schoolhouse a one-room schoolhouse, was built in 1901 on the property of Joseph Jatta which is now under the water of Lake Lopez.
The Schoolhouse was used until 1957 and was then moved to another location to due to the construction of the dam at the lake. It was moved again in 1999 to Short Street at the South end of the Swinging Bridge. The Schoolhouse was completely restored to its original condition including the students chairs, chalkboards, maps, books, etc.
Just behind the Schoolhouse is the "Barn", the South County Historical Society's Museum Annex which houses a variety of historical vehicles, printing presses and other interesting exhibits.