Southern Museum Of Flight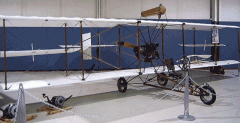 The museum's exhibit halls include the following:
Early Aviation Exhibit: The Wright Flyer alongside the Curis Wright Pusher, the birth of one of the first aviation companies in the United States. The Huff Daland Puffer, the first crop sprayer in the world,designed and built in the South, and formerly owned and operated by what is now called Delta Airlines. The Alexander Eaglerock, which started the promising career of Albert Mooney. and was the largest manufacturer of aircraft in the USA in the 1930's. A WW1 display of artifacts of the Red Baron, and a Fokker DVII from the film "The Blue Max".
Experimental Exhibit: Dedicated to the backyard builders and homebuilts, the experimental displays show the wide range of homebuilt aircraft developed and produced under the watchful gaze of the Experimental Aviation Association (E.A.A.) See the Bede 5, a triumph of marketing over workable plans! An amphibian that took 10 years to build, a Glasair that had a whole 26 hours of flight ofter years of work, a helicopter whose main rotor, surprisingly, rotates the opposite way to convention, and the Mini-Mac, a Hueytown design of which only three were every produced.
South Hall: The Southern Museum Of Flight's newest display area. Recently opened, a diorama along one complete wall, is dedicated to the Tuskegee airmen. The display includes the Cornell, Vultee, AT6, Link Traimer, as well as figures of both air and ground crew with the sounds of the time. The jet age is commemorated with a diorama of the defection of a North Korean pilot to a US F86 base in the Korean war. And don't miss the famous B25 recovered from the depths of Lake Murray.