St. Clement's Island Potomac River Museum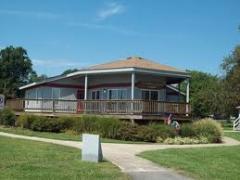 This museum overlooks and focuses on the history of St. Clement's Island, Maryland's first colonial landing spot in 1634.
You will learn of the voyage of The Ark and The Dove departing from the Isle of Wight in England on the feast day of St. Clement, the patron saint of mariners. Follow the treacherous crossing of the Atlantic Ocean, braving pirates and dangerous storms, and their venture up the Chesapeake Bay to the Potomac River.