St. Fidelis Catholic Church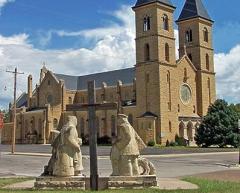 With a seating capacity of 1,100, St. Fidelis was the largest church west of the Mississippi when it was completed in 1911. Its beauty and size inspired William Jennings Bryan (visiting the area in 1912 on a presidential campaign) to dub it the "Cathedral of the Plains."
The stone for this massive Romanesque structure came from a quarry seven miles south. The extracting of the stone, loading it, hauling it, and then dressing it was a gigantic task and an amazing feat considering that it was accomplished without automatic lifts and power tools.
The church structure is a cruciform, or built in the shape of a cross 220 feet long and 110 feet wide at the transepts and 75 feet at the nave. The massive twin bell towers are 141 feet tall and dominate the prairie landscape.
The granite pillars that support the church were shipped in from Vermont.
The restoration of the church interior is also a tribute to the continued dedication of the people of the parish. A native son of the parish, Wayne Brungardt, was hired to be the architect of the restoration in the 1990s. Tim Linenberger, the third generation of Linenbergers (originally from Victoria) to have painted the church, painted the interior and did intricate stenciling returning the church to the original rich mauve and gold tones.