Stamford Historical Society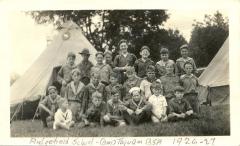 The Stamford Historical Society was founded in 1901. Like most historical societies, organized at the beginning of the twentieth century, the then world of Stamford smokestack industries and immigrant labor was ignored. The society's founders looked for inspiration to an earlier, pre-smokestack time, and focused on collecting artifacts and objects from the 17th and 18th centuries.
As with many Americans of the era, the founders viewed the past as largely immutable, and their 17th and 18th century forebears as largely rooted in one spot. Today it is recognized that the constant movement of settlers has been an American trait since the first generation arrived, built their meeting houses, and excluded later arrivals from them.