State Capital Publishing Museum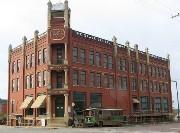 Frank Greer came to Guthrie, Indian Territory, in April of 1889, and built a business that grew to include one of the largest printing operations in the southwest and the three most widely circulated newspapers in Oklahoma.
Inside the museum is a large collection of original furnishings and printing equipment from 1889-1916. Museum exhibits include the history of the State Capital Company, printing technology and other aspects of life from the territorial and early statehood era.